oil heating vacuum drying oven VD-2000P-PC
Oil heating vacuum drying oven VD-2000P-PC
Key parameters
power input:AC380V 3φ 50HZ
size and rate:
| | | | |
| --- | --- | --- | --- |
| model spec | inner size(mm) | outer size(mm) | power rate |
| VD-2000P-PC | W850×D920×H1450 (single zone) | W2000×D2098×H2383 | 30Kw |
temperature control range: RT~150℃
vacuum degree: air pressure~50Pa (resettable)
Oven structure
outer shell: galvanized cold rolled steel
liner: stainless steel 304
heat resistant: 100mm silicone insulated cotton
vacuum blower: special designed vacuum blower
1) fast achieving uniform heat distribution
2) cooling with the conduction oil
nitrogen pressure control: 1.0 bar ± 0.05bar (100000pa ± 5000pa);
Hot oil heating system
hot oil heating system diagram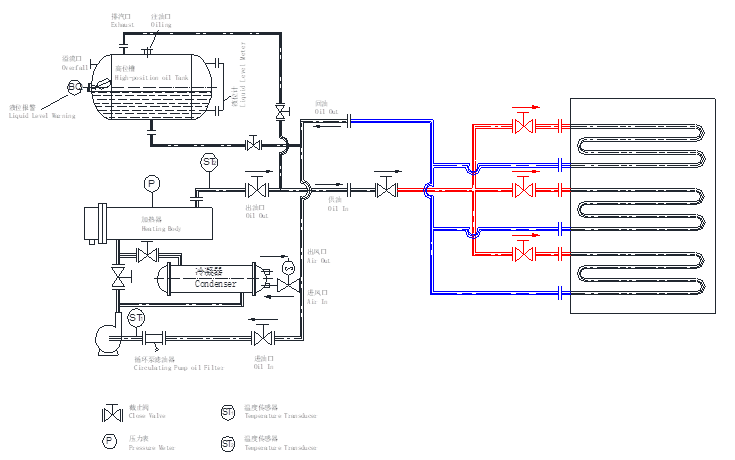 Construction and control
1)oil furnace: heavy duty structure soldered with seamless structural steel, alumina silicate fiber for heat resistant, and high temperature cut-off valve embedded between the furnace and the oil pump.
2)Electric heater: flanged heater with heating tube made of 1Cr18Ni9Ti, heating wires made of Cr20Ni80, and filler of magnesia powder, with high heat and pressure resistance.
3)Professional high temperature hot oil pump, safe guarantee for long time no leakage working, inside which there are three oil circulation tubes to ensure the even heating.
4)Temperature control, PID control system
5)Pressure monitor: there's pressure gauge on the tubes of the hot oil pump and the heating tube to reflect the real pressure inside the furnace, and it will give alarm to stop the heating when pressure goes unnormal.
6)Liquid level monitoring: there's monitoring system for the liquid level, and it will give alarm to stop heating when the liquid levels down.
7)Key alarming system: audible and visual alarm for overheating, low pressure, low liquid level, etc.
8)Overall protection system: the protection system is based on chain reaction for the key parameters like liquid level, temperature, etc., any unnormal figure will trigger off the alarming system and react to stop the heating for overall protection.
Electric system
Omron PLC
PC operation system
temperature monitor: 6 profiles of temperature recording and monitoring, with diagram available
Security protection
overcurrent protection
system short circuit protection
overvoltage protection
vacuum pump overloading protection
open-phase protection
Overtemperature protection